Microsoft details more changes coming to the Xbox One on March 4th.  They also have just announced a new headset & adaptor for existing headsets.
Get to your friends list faster. The friends list will be front and center on the homepage of the Friends app. Click the Social tile on Home, or say "Xbox, go to Friends" to see who's online and what they're up to. From there you can quickly send messages and get into a party.
Party chat will be turned on by default. When you party up, chat audio will be turned on by default.
Chat with friends playing different games. Party chat will be separated from people playing your game, so you can chat with your friends who are online or you can chat with everyone playing the game.
We're adding an "Invite friends to game" option to your multiplayer titles moving forward. Similar to Xbox 360 titles, this will appear inside a games' menu and offer a simple and quicker way to set up your multiplayer battles. Selecting "Invite friends" will let you invite friends to your game and party.
We're adding "Recent Players." This is a simple list that shows you Xbox Live members you've recently played with, making it easier to stay in touch with people, or add new friends after your multiplayer battles.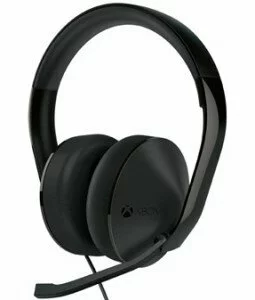 All-new Xbox One Stereo Headset. The Stereo Headset pairs a premium, full-range (20Hz – 20kHz) audio experience with a unidirectional microphone taking advantage of Xbox One's Skype-powered chat audio codec. Included in the package is a detachable Stereo Headset Adapter that puts all of the audio controls right at your fingertips. You can balance the game and chat audio levels, control the master volume, and mute the microphone.
The Xbox One Stereo Headset does not use separate batteries and is passively powered through the Wireless Controller. Additionally, headset is compatible with mobile devices, tablets and PC/Mac.
The Xbox One Stereo Headset will cost $79.99 (MSRP).
For Xbox fans that already have a favorite set of stereo gaming headphones, we're happy to reveal that the Stereo Headset Adapter will also ship separately. Plug your compatible headset into the Xbox One Stereo Headset Adapter to chat with your fellow players, and enjoy the convenient volume controls right on the adapter. For more details on the Xbox One Stereo Headset Adapter, please visit xbox.com/xboxone/compatibleheadsets.
The Xbox One Stereo Headset Adapter will cost $24.99 (MSRP.)
Both will be available in Xbox One markets worldwide in early March.